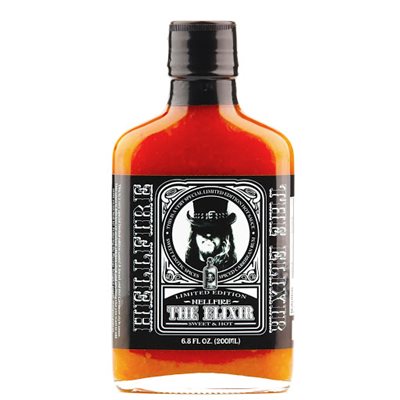 Press and move to zoom.
Mouse over image to zoom.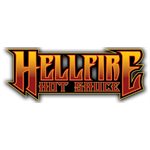 The Elixir | Hellfire
Product Code: 855713005060
L'elixir d'Hellfire est une sauce fruitée (ananas, mangue, mandarine...) qui apportera une saveur sucrée à vos plats tout en les relevant largement grâce aux piments extrêmes qui la composent : le 7 pod et le Moruga Scorpion. On aime l'utiliser dans nos marinades pour poisson, crevettes et fruits de mer en général. On l'utilise aussi dans nos recettes à base de poulet et de riz.




Peppers :

Moruga Scorpion

Heat Levels :

Levels 6

Country :

Usa
Quantity Available: 5
Availability: In stock
PIMENT(S)
Habanero, Scorpion Moruga, 7-Pot Primo,
Ingrédients
Vinaigre distillé, Mandarine orange ( mandarine orange, eau, sucre), Mangue, Purée de piment trinidad scorpion (piment trinidad scorpion, sel), Purée de piment 7-Pot primo (piment 7-pot primo, vinaigre), Purée de piment habanero orange (piment habanero orange, sel), Purée de papaye, Ananas (ananas, jus d'ananas, acide citrique et ascorbique), Rhum épicé, Pêche (pêche, eau, saveur naturelle, sucre), Sucre de canne, Ail (ail, eau), Cassonade (sucre de canne, mélasse), Piment de la Jamaique, Extrait de vanille (extrait de gousse de vanille dans l'eau et l'alcool 41%), Cannelle, Poudre de cari (épices, safran des indes, sel Contient Moutarde), Gingembre, Clou de girofle, Cumin