Habanero Kick | Papa Ours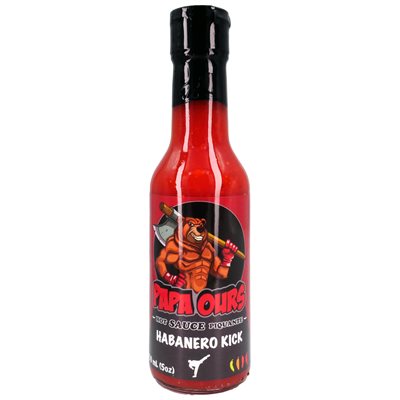 Double-tap and hold to zoom.
Mouse over image to zoom.
Habanero Kick | Papa Ours
Product Code: 628250653014
Beaucoup, beaucoup d'habanero…
La HABANERO KICK est une sauce de style louisianaise qui permet d'ajouter un bon "kick" à tous vos plats.
Ajoutez-en dans les bloody caesar, dans un "Mac'n'cheese" maison ou simplement pour ajouter une chaleur intense et un savoureux goût d'habanero à chacune de vos bouchées.
** Sans Gluten
Peppers :

Habanero

Heat Levels :

Levels 8

Country :

Québec
Quantity Available: 12+
Availability: In stock
Ingrédients
Piment habanero, vinaigre blanc, vinaigre de vin rouge, sucre, ail, sel, moutarde, gomme de xanthane