Press and move to zoom.
Mouse over image to zoom.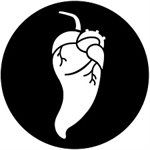 Scorpion | Heartbeat
Product Code: 627843866305
Notre sauce la plus piquante à ce jour, cette nouvelle recette comprend des piments Trinidad Scorpion pour faire pomper votre sang! Même avec une combinaison unique d'ingrédients, y compris des betteraves, des poivrons rouges et des chipotles en adobo, cette sauce a toujours la polyvalence bien équilibrée que vous attendez de la gamme Heartbeat. Avec son niveau d'épices chaudes mais pas trop piquantes et sa saveur nuancée, cette sauce fait chanter à peu près tous les aliments: œufs, pizza, tacos et plus encore. Votre nouveau go-to!
Quantity Available: 12+
Availability: In stock
Marque
Heartbeat Hot Sauce
PIMENT(S)
Trinidad Scorpion, Habaneros
Ingrédients
Poivrons rouges, oignons, vinaigre, poivrons chipotle rouges, betteraves, sucre, ail, jus de citron, sel, pâte de tomates, huile de canola,.